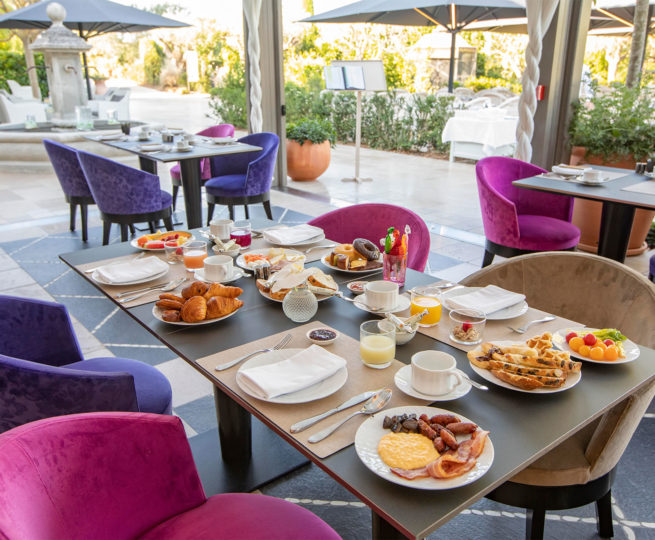 Sunday at Pierre's
Gathering as a family or group of friends around our table d'hôte is not only a tradition; it is almost a sacred Sunday affair! From September 2021, every Sunday, La Table de Pierre invites you around trays bakes, tear-and-shares and casseroles dishes. Sundays at Pierre's is all about sharing!
A unique lunch offer in an atmosphere of festivity and conviviality to enjoy all summer long on the terrace overlooking the pool.
To start, vintage appetizers of 'Petits Farcis Niçois', Burrata and Heirloom Tomatoes or Pissaladière. Fish or meat casseroles to share – such as our star dishes of Provençal Sea Bream or Niçoise Beef Stew - and our Country Vegetable Platter. The final will bring back childhood memories with its beloved retro desserts such as Floating Island and Chocolate Mousse, to share.
€65/person,
excluding drinks
On Fridays,
It's Winter Party!
All fall and until the end of December, the traditional "Winter Party" invites itself in the gardens of the Domaine du Mas de Pierre on Friday evenings (1 week out of 2). A flagship concept in the heart of the Domaine dedicated to sharing, joie de vivre and laughter.
On the program: live-cooking sessions and tasty dishes cooked by our Chef
In the gardens, winter dishes and wine tastings are organized throughout the day, to warm you up while stimulating your taste buds we reserve our delights of tartiflette, raclette, truffle risotto, peeling bench and an all-you-can-eat buffet!
And to mark the moment, resound here the most beautiful jazz melodies and Dj playlists.
€90 per person,
excluding drinks
buffets close at 9:45 pm
alcohol abuse is dangerous to your health, consume in moderation